August 14, 2012
The Real SEO Value Of A Local Campaign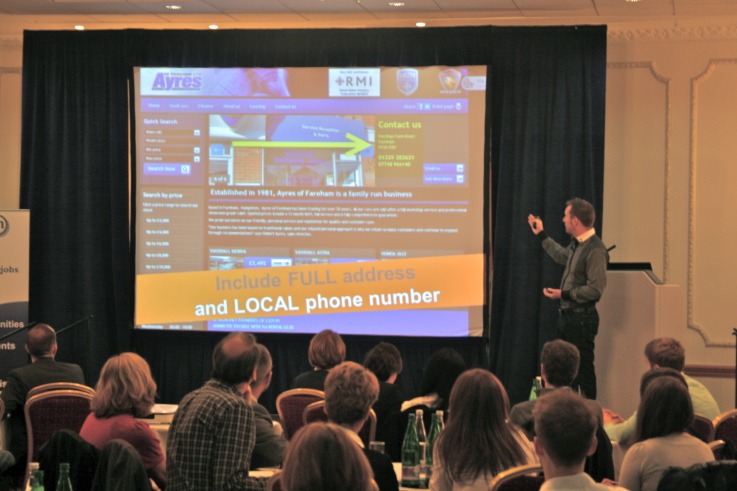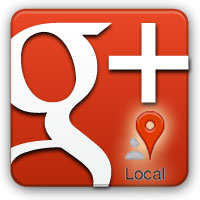 Whether online businesses like it or not there is now no avoiding the need for a local SEO campaign.
Recent updates from Google, most noticeably the Venice Update are changing the way search is returning information to those searching for it. The migration of Google Places to Google+ Local has also highlighted the importance of having a local campaign.
But what is the real SEO value of having a local SEO campaign and do you really need one?

The Real SEO Value
Considering the number of updates and signals that Google have thrown our way over the last six months it is surprising how many online businesses still don't believe they need a local SEO campaign. The truth of the matter is they do, even those who aren't targeting a local audience.
The Venice update started a big ball rolling and introduced a huge change that means local has become just as important as a more generic campaign.
The idea behind Venice is to give searchers an improved local experience. This used to only truly be available to those who actually searched for a local term or service and those who were logged into their Google account (seeing personalised results). Now Google reacts to the location Google registers you closest to and returns localised results.
Why does this affect online businesses?
Think about it, Google is now returning local results without people even searching with a local element to the search string.
This means if you over look or ignore implementing a local campaign you run the risk of losing custom. Where you once ranked on the first page for a particular term you may now rank on the second page while Google display more relevant results.
Lets look at an example. If I set my location to United Kingdom I receive results that are the most generic based on what we may call normal rankings – note I'm not logged in: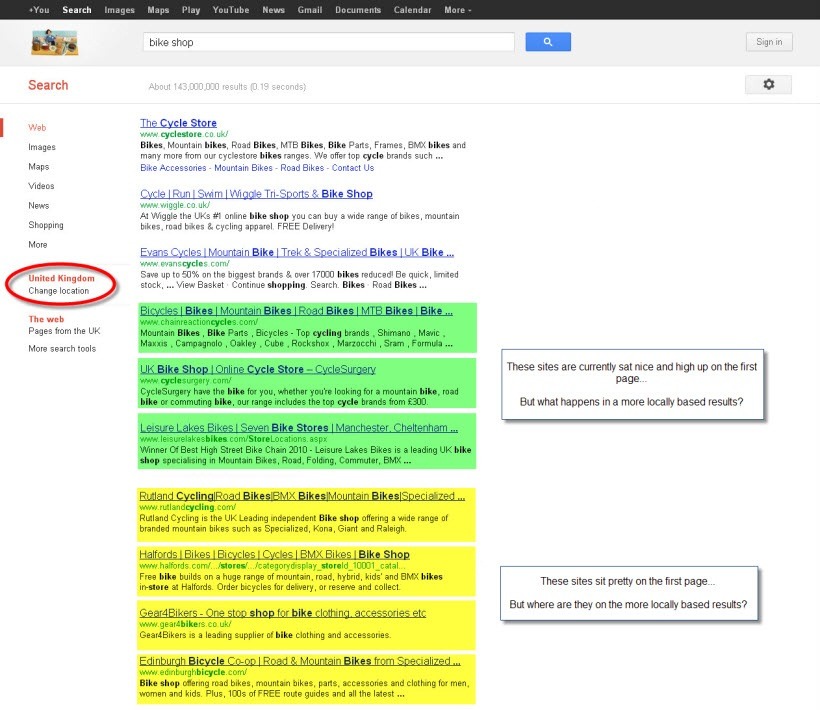 Now when I allow Google to set my location look at the changes in search results – again note I'm still not logged in.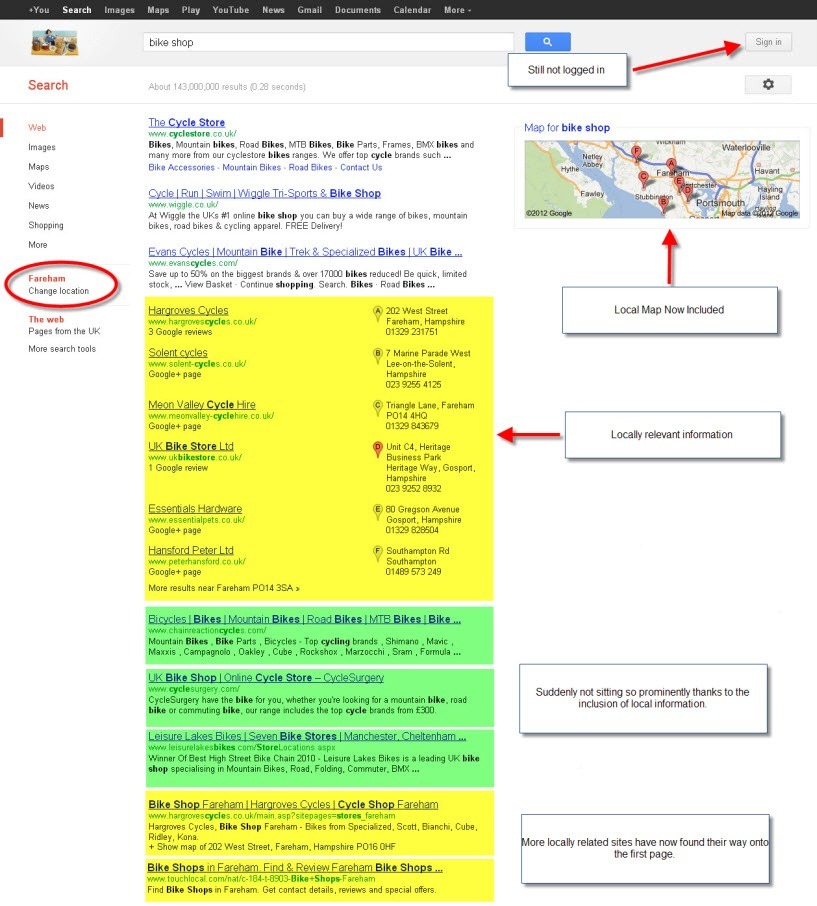 High ranking pages have now been pushed down, potentially below the crease.
Pages that were ranked on the first page are no longer there at all having been pushed down onto the second page.
You have to get local.
There are of course going to be terms that simply aren't as relevant to a local search as others but if you offer a product or service you need to be thinking locally as well as nationally. Do this and you will start to see the real SEO value. Not only will all your bases be covered but you may also start to pick up local custom that you may never have targeted before.
So how do you go about this? It's no different to any other SEO campaign and on page elements are key to giving Google the information that will help  highlight your relevance to a location.
So what on page elements do you need to think about?
This Whiteboard I filmed for Koozai TV gives a run through of the important areas that should be looked into:
Off Page
Again the rules are not really that different to any normal campaign. You need to build links from the areas Google will be looking for local information. Make sure you have a presence on areas such as:
Internet Yellow Page sites (such as Yell)
Local Directories (not to be confused with free generic directories that provide no value at all)
Location driven review sites (such as Yelp)
Location related business directories (such as AppleGate)
Google+ Local
Beyond the Venice update, Google have also recently migrated all existing Google Places profiles into the new Google+ Local platform.
If you had an existing profile then this will have been done automatically for you. All your information will have been fully migrated across. However it is still good practice to login and double check. You can still use the old Google Places dashboard to check and change your information.
Why is this change such a big change? Well Google have been open in the fact that these new profiles will eventually further migrate into any Google+ business profiles that are also associated with your business.
Yes this does mean you should also have a Google+ Business profile.
More importantly if you don't have a Google+ Local profile – CREATE ONE NOW.
It is only a matter of time before Google starts to take ranking signals and information from their Google+ platform – if they haven't started already.
Once the migration into one huge Google+ profile takes place who knows how much this is going to affect rankings as a whole or whether these profiles will start to outrank live websites.
Social
If you haven't included social in your campaigns then you are being left behind at a huge rate of knots.
Not only do you need to be creating the social signals that are now so important but you can also include highly important local information within your profiles.
Include your location within your Twitter description.
If you have a Facebook profile then local information can be included in various different areas.
LinkedIn also provides you with a platform to include local information.
Make sure this is all up to date. These are highly valuable signals.
Start implementing real SEO tactics now and make yourself local
There is only so long you can ignore the importance of local SEO and the part it now plays with Google. You can't afford to sit back and see what happens. You need to act now.
Remember the key points:
Local results are being displayed even if you aren't logged into a Google account. This could be pushing you down the rankings
If you don't have a Google+ Local profile you are missing
Your on page optimisation needs to include a local element
You need a Google+ business profile to ensure you are ready for the impending migration with Google+ Local profiles
Social platforms provide strong signals – if don't have a presence you may already be behind